In the fall of 1996, Brian Lyall, marketing manager of Panorama Resort and Larry Halverson, Parks Canada, came up with the idea of a bird festival, highlighting the thousands of birds that migrate though the Columbia Valley, one of North America's larger wetlands. Larry took up the challenge and recruited volunteers, sponsors, and knowledgeable event leaders and presenters. Larry offered this memory, "We saw the festival providing a focus for community action on behalf of the environment by enhancing community engagement and cooperation." In a few short months Wings Over the Rockies festival was born.
The first festival offered 80 free outdoor events – hikes, bird walks and guided canoe paddles, as well as ticketed presentations. Wings Over the Rockies received enthusiastic support from local businesses and wildlife specialists including Robert Bateman who agreed to be a patron, remarked, "What a good idea! The Wings Over the Rockies Bird Festival conjures up an image of all that is important about Canada… spectacular scenery, abundant nature and a warm, human spirit of getting together in a worthy cause."
But the 1997 festival was just a beginning. Wings gradually expanded from a birding event to a true nature festival, one of the larger in Western Canada. It now offers informative sessions about wildlife, ecosystems, local history, agriculture and local businesses. Many respected environment professionals such as Robert Bateman, Dr. David Schindler, Dr. Suzanne Simard, and Bill Lishman have been key note speakers. While birds remain at the heart of WINGS, the more we understand about their environment, the better we can appreciate and protect them. Larry Halverson summed up the value of Wings nicely, "by highlighting the community's natural attributes, the wetlands, we state what we value. And in doing so, create a significant contribution to the diversity of our local economy, quality of life and protection of natural resources."
Wings Over the Rockies Nature Festival 2022 celebrates the unique landscape of the Columbia Valley Wetland and surrounding habitat, fauna and flora. Our society has been "Winging It for 25 Years" and will offer more than 100 events from Wasa to Golden over the week of May 9 – 15. In addition to outdoor events, luncheon and evening presentations are scheduled. A concert by rocky mountain-based The Wardens plays Friday at the Columbia Valley Community Centre (CVCC). The WINGS Gala is Saturday evening at the CVCC featuring key note speaker Dr. Harvey Locke, conservationist dedicated to national parks, wilderness conservation, large landscape connectivity and climate change.
Tickets sales for all events are now on sale, www.wingsovertherockies.org. The WINGS on-line auction starts May 6 with dozens of unique items, including an Adventure Canada trip for two, The Mighty St. Lawrence. Be sure to purchase your Wings 25 tee shirt or sweatshirt to show your support at https://www.kootenayclothingco.com/collections/wings-over-the-rockies.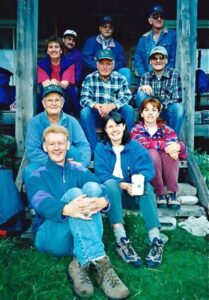 Some of the founding members of the Wings Over the Rockies Bird Festival, 1997:
Left to right bottom: Bill Swan, Deb Griffith
Martha Christie, Elizabeth Shopland
Sue Chambers, Gerry Wilkie, Larry Halverson
Brent Stibbs, Dale Genest, Frank Keely