Wings Over the Rockies Nature Festival 2021
Wings Over the Rockies is supported by the Government of Canada's Emergency Community Support Fund and the Columbia Valley Community Foundation.
Inspired by Nature… By Ross MacDonald, Festival President
Our theme for our 24th festival, Inspired by Nature…, recognizes the vital role that the outdoors plays in our physical and mental well-being but also that humans have a responsibility to protect these special natural places.
This has been a year of constant change. I cannot praise enough Wing's festival planner, board of directors, volunteers and affiliate partners who have moved heaven and earth to develop a full suite of outdoor covid-safe activities. However, despite our efforts – and we tried, we really did – Wings has had to shift to an online virtual festival in order to fully abide by BC Public Health Orders.
Here is what the Online Wings Festival looked like:
Photography contest – with categories for kids and adults
2 live online presentations by extraordinary adventurers and wildlife photographers
9 pre-recorded on-demand presentations bundled together for one low price that your family could view from home at any time until May 30th
Online auction, open to bidders from across Canada – filled with adventurous experiences that you will want to save for yourself!
Birdhouse building contest for the whole community
Look for details in our photo section, and on our Facebook and Instagram
Please join us in 2022 when Wings celebrates a quarter century as one of the largest nature festivals in Canada!
Wings wishes you good health while we weather the virus. Although we won't be able to meet with you in person this Spring the inspiring landscapes of the upper Columbia Valley and of many areas of Canada provides a nature 'festival of sorts' every day. Take some time to find inspiration, renewal and reconnection in nature with your friends and family, in a socially and environmentally responsible way.
The 2021 Wings Over the Rockies Nature Festival is supported by the Government of Canada's Emergency Community Support Fund and Community Foundations of Canada. Wings is grateful for the support of its local sponsors, businesses and volunteers. We couldn't fly without you!
______________________________________________
HISTORY
Since 1997, Wings has celebrated the internationally recognized Columbia River wetlands and adjacent areas. Wings adheres to the ethics that nature comes first – the festival showcases wild areas here but also the research to protect and restore its ecosystems. Wings' excursions tread softly and give wildlife space. We also believe that nature needs a hand – people protect what they love, but to become stewards, people must have an awareness and understanding of nature, a role the Wings festival provides.
Wings is grateful for the support of its local sponsors, businesses and volunteers. We couldn't fly without you!
Watch our website www.wingsovertherockies.org for updates.
______________________________________________
Every year, the Wings Over the Rockies Nature Festival is celebrated in the Upper Columbia Valley in early May.
In the words of our patron, Robert Bateman, the world-famous wildlife artist and environmentalist:
"The Wings Over the Rockies Nature Festival' conjures up an image of all that is great about Canada… spectacular scenery, abundant nature and a warm, human spirit of getting together in a worthy cause. The world over, when people think of Canada, they think of the glory of the Rockies. When you combine this with the upper reaches of the mighty Columbia, you have an unsurpassed natural setting. The continuous wetlands along the river are perfect as breeding areas and staging places for a significant number of bird species. This and the many other habitats provide a variety of ecosystems which will bring joy to any naturalist. But the idea of this festival goes far beyond a "get-together" of serious naturalists. It is an ideal chance for everyone to learn and share the excitement of nature "in the flesh" so to speak."
This ecosystem grows in value every day as other places like it disappear. A celebration of its wonder and beauty must respect its fragility and ensure that its natural values are protected for the future. Wings Over the Rockies is a festival that contributes to a long-term vision of sustainability for our communities – balancing the needs of human and natural systems.
This annual festival enhances community spirit and cooperation as volunteers, local businesses, naturalists, conservancy groups and special guests work together to provide activities that educate and instill an appreciation of nature. Visitors who come to the valley for this festival make a positive economic impact on our local businesses.
Wings Over the Rockies Legacy
Profits from the festival are reinvested into conservation and education projects within the Upper Columbia Valley. Over the years Wings has supported several habitat research, restoration and interpretive projects. Wild Voices for Kids, which sponsors environmental education, is now being implemented throughout the East Kootenays by the Columbia Basin Environmental Education network (CBEEN). The program continues to support students in the Columbia Valley throughout the school year and during the Festival, with Wings speakers giving presentations in our local schools.
The Columbia River Greenways Alliance which establishes networks of corridors for humans and wildlife; and the Project Take Flight raptor rehabilitation cage are all programs which were incubated by Wings and then went on to become successful and independent non-profit societies.
In 2010, Wings awarded a scholarship to a local David Thompson Secondary School student pursuing a career in environmental or natural sciences.
24 Years of Wings Festival
1997 Wings Over the Rockies – Wayne Campbell
1998 Migration Sensation – David Bird
1999 no theme – Brian Keating
2000 Art of Nature – Robert Bateman
2001 Joy of Discovery – John Acorn (the "Nature Nut")
2002 Rivers of the Sky – Bill Lishman (Father Goose)
2003 Wonder of Water, Columbia River Swimmer – Christopher Swain
2004 Nature's Orchestra – Ian Tamblyn
2005 Birds… Past, Present & Future – Dr. Philip Currie
2006 The Big Year – Brian Keating
2007 Conservation in Action, Working Together for the Birds – Ben Gadd
2008 Follow the Leaders, Mentors in Birding – Bill Lishman
2009 Science Takes Flight – Dick Cannings
2010 Biodiversity, the Web of Life – Dr. Faisal Moola
2011 Celebrating Our Valley, Celebrating the People – Larry Halverson
2012 Our Backyard, the Envy of the World – Bruce Kirkby
2013 Celebrating Mountains, Wetlands & Wildlife – George Sirk
2014 The Mystery of Migration – Brian Keating
2015 Fossils and Feathers – Jean-Bernard Caron
2016 Reflections on Water – David Schindler
2017 Birds, Bats, Bears & Beyond – Danny Catt
2018 Webs & Roots: Talk About Networking! – Suzanne Simard
2019 Go Ahead…Explore! – Laval St. Germain
2020 Raising Awareness…It's a Matter of Survival – Alex Taylor – cancelled due to Covid -19
2021 Inspired by Nature to… Alex Taylor sharing how nature has inspired him to be a steward of the earth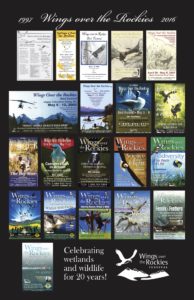 Since 1997 Wings has maintained its purpose "to foster immediate and long term positive action on behalf of birds, wildlife and habitat by utilizing and recognizing public education, research results, quality economic development and the skills and resources of our communities, balancing the needs of humans and natural systems."