Fairmont Hot Springs Resort is one of Canada's all-encompassing experiences where guests enjoy exceptional service, all the benefits of Canada's largest natural mineral hot springs pools, and a year-round Rocky Mountain resort in the beautiful Columbia Valley.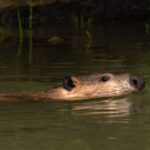 You won't need to go far to see local wildlife and birds – just steps from your hotel room door offers an opportunity to see deer, elk, big horned sheep, and an array of different bird species. Our very own golf course is home to one of the more uncommon bird species of the area – the Lewis' Woodpecker. Within the golf course grounds, five nesting pairs have been spotted!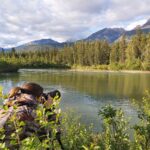 In 2010, Fairmont Hot Springs Resort and the Columbia Basin Trust planted 1,000 trees with the intention of sustaining this sought-after Lewis's nesting habitat. You may also spot Wood Ducks, Mergansers, American Dippers, Sandpipers, and American Widgeons along this section of the Columbia Rivers, which flows through Riverside Golf Course.
Conservation through activities! Fairmont Hot Springs Resort offers a broad variety of nature related activities and programs for all ages that provide valuable and important information about our sensitive mountain flora and fauna. We have endless family-friendly activities such as Bee Hotel Making, DIY birdfeeders, Nature Detective Activities, or Introduction to Hiking. We also offer photography workshops like "birding through the lens", guided hikes, bike tours and our most sought after guided kayak tours that will bring you close to nature. The best part? All these activities are included with your Resort stay – simply sign up and enjoy! 
Did you know that Fairmont Hot Springs Resort has their own bear safety committee? The committee was founded in 2020 and primary ensures a bear-free stay of our guests in and around the resort.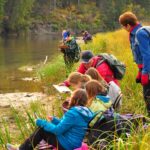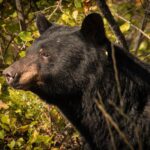 The committee is responsible to remove and/or minimize attractants and cases where a bear finds its way too close to the resort or our RV Resort, they will guide it back into the forest safely, where it belongs.
Fairmont Hot Springs also offers a "Nature Detective: Bear Aware" activity where you can learn tons of interesting fun facts about our furry friends and even touch a real bear fur!
The Resort recently launched its brand-new scavenger hunt "The Hot Springs Heist"; part of this self-guided family fun activity is to bring some knowledge about trail etiquette and bears to our visitors.
In 2021, Fairmont Hot Springs Resort invested in hybrid mowing systems for the maintenance of their 3 spectacular golf courses. The Reelmaster 5010-H utilizes a diesel engine in concert with an in-line motor generator and a self-recharging 48-volt battery pack, saving on average 20% fuel usage and lowering the vehicle's carbon footprint.