The Story of the Wings Over the Rockies Nature Festival Society

The annual Wings Over Rockies Nature Festival (WOTR) is one of the largest nature festivals in Canada and perhaps the most complex. Each May, for 24 years (excepting the Covid-19 sabbatical in 2020), the weeklong WOTR presents an inspiring and diverse array of 100 expert led events and presentations. The festival has connected  a generation of residents and visitors to the nature and culture of the Columbia River Wetlands region in the East Kootenays of British Columbia.

The Columbia River Wetlands is one of the largest intact wetlands remaining on the continent,stretching 180 kilometres from Canal Flats to Donald (north of Golden) and cover 26,000 hectares. They encompass 16 habitat types (such as marshes, open waters, shrub levees, and floodplain forest). They shelter elk, deer, wolves, cougars, grizzly bears, fish, amphibians, insects, more than 260 bird species, and nearly 40 threatened animal and plant species. The wetlands are designated as a RAMSAR wetland of international importance.
The festival's gestation began with the efforts of Kootenay National Park staff to engage adjacent communities to protect the bigger ecosystem, including the remarkable Columbia River Wetlands. For context, the mountain national parks often found themselves at loggerheads with businesses with seemingly opposing agendas. The Heritage Tourism Initiative was born in 1990, a first for Canada. At its root is an understanding that the fastest way to educate people about protecting natural habits was through businesses that talk to the majority of residents and visitors. Even the best communication campaign by researchers and
educators reached only a small fraction of that number. Parks Canada gathered and facilitated the diverse array of business, government, education, and environmental stakeholders that would establish the first Wings Over Rockies Nature Festival.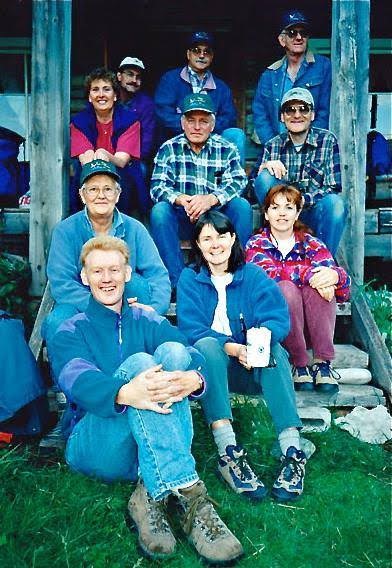 Photo – some of the original Wings board (circa 1997)
Top Row from left to right: Brent Stibbs, Dale Genest, Frank Keely;
Second Row: Sue Chambers, Gerry Wilkie, Larry Halverson; Third
Row: Martha Christie, Deborah Griffith, Elizabeth Shopland; Bottom:
Bill Swan.

The mandate of the WOTR Society:
"To foster immediate and long term positive action on behalf of birds,
wildlife, and habitat by utilizing and recognizing public education,
research results, quality economic development and the skills and
resources of our communities, balancing the needs of human and
natural systems."
From this mandate, the Wings Over the Rockies Nature Festival was
hatched. It has been protecting the nests of the upper Columbia
Valley since 1997.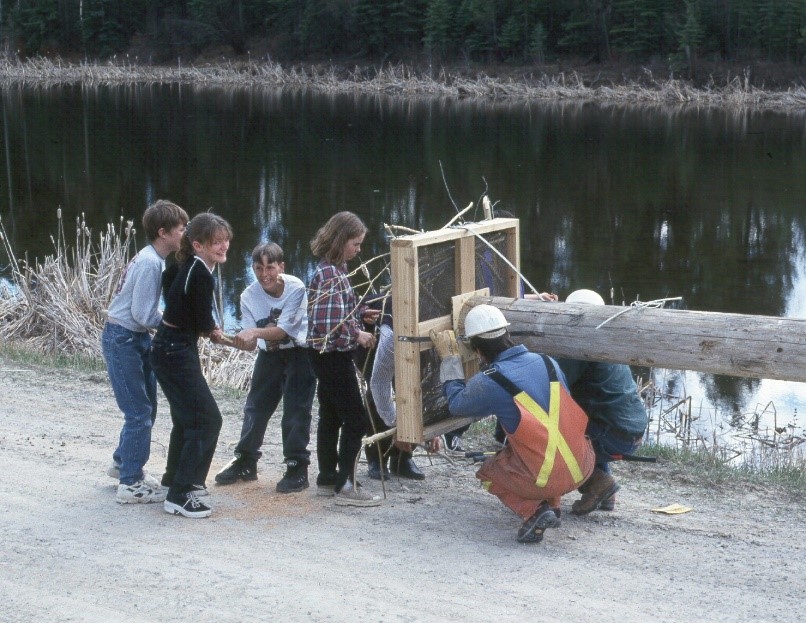 Each year Wings attracts up to 1000 event participants, more than half of them non-local. The festival depends upon a contract Festival Planner, 75 volunteers (board, marketing, registration, event leaders, and event support), plus contract businesses (design, advertising, event providers) and our presenters. The festival's budget averages $60,000 per year, augmented by in-kind donations and project grants.
Surplus funds are reinvested into strategic habitat conservation and environmental education projects within the upper Columbia Valley. As Covid-19 impacts society, the critical role nature plays in our well-being is increasingly recognized. The challenge is engaging people with nature, while simultaneously ensuring that the environment is protected and social distance is maintained. Wings will be a responsible Columbia Valley leader inspiring the best in people, helping engender the best possible outcomes for our natural habitats.
WOTR has demonstrated leadership in the field of natural science by
incubating significant initiatives. These include: the Columbia River Greenway Alliance, which created the disabled accessible Dragonfly Boardwalk and A Stream through Time Trail with restored fish habitat; a co-marketing partnership with other BC wildlife festivals; and the Project Take Flight raptor rehabilitation project. 
Best of all, Wings helps educate future nature protectors through the Wild Voices for Kids school programs. Their impact is reflected in the words of
Sophie, a Kindergarten Wild Voices student, "It's awesome, everything out here is alive!" Or seen in the craning necks of the grade 4 students who helped raise an osprey nest platform. Or by watching the delighted enthusiasm of students paddling together in a Voyageur Canoe as they experience living history. The Wings board is so proud of Wild Voices, now flying high on its own well beyond our local area.
Wings nurtures fledgling organizations such as The Columbia River Greenways Alliance, which creates non-motorized trails with habitat restoration. It began as a subcommittee of the Wings Over the Rockies. Wings has also advised on nature content for several CRGA interpretive sign projects including the Stream through Time Trail in Radium Hot Springs, the Dragonfly Boardwalk in Invermere, and the Westside Legacy Trail between Invermere and Fairmont.
WOTR was a cofounder and nonprofit charitable sponsor for the Wild Voice for Kids environmental education program. WVFK has grown to cover six
districts across the East and West Kootenays. Wings still collaborates with WVFK to facilitate curriculumbased programming during the festival.
WOTR also was the nonprofit fundraising charity forthe Project Take Flight Raptor Rehabilitation program until it became its own independent charity in 2019.
Wings has been building environmental capacity for over twenty years.  Wings advised local Kicking Horse Coffee on the importance of sourcing bird-friendly shade-grown organic coffee to maintain biodiversity. Kicking Horse has grown to become Canada's largest coffee roaster and continues as a festival sponsor.
WOTR has trained volunteer and commercial trip leaders to lead safe, accurate and enjoyable guided events building environmental tourism capacity that in the end supports the festival.
The festival is a cofounder and continuing member of the Columbia Wetland Stewardship Partners, a collaboration of governments, First Nations, non-governmental organizations and landowners for coordinated wetlands research and stewardship and management.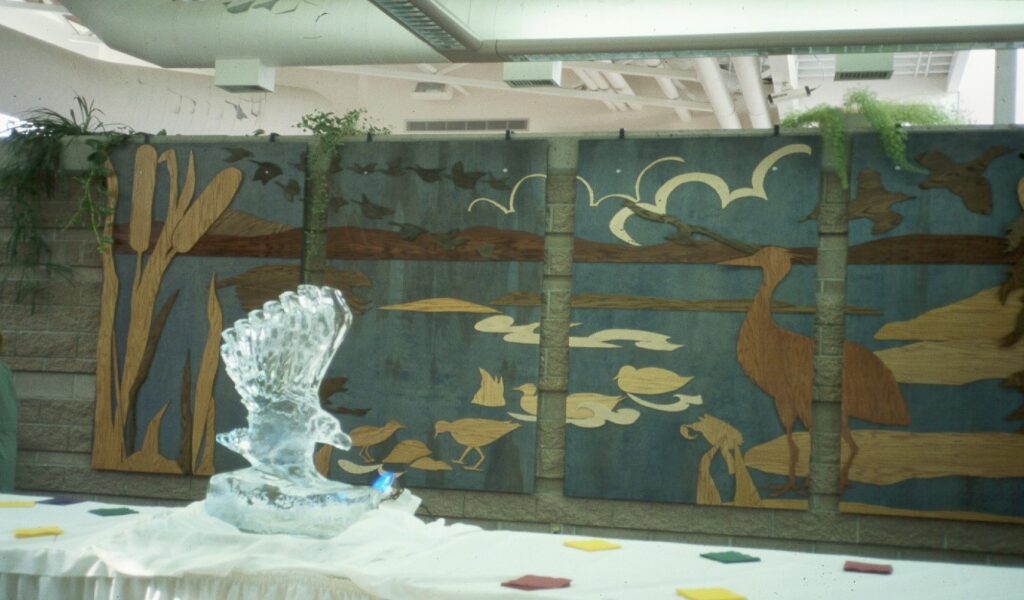 Surplus funds generated from the annual WOTR fundraising gala dinner have been donated to waterbird surveys, the SPARK electric vehicle loan project, Project Take Flight Raptor Rehabilitation Flight Cage, Columbia Basin Environmental Education Network's Wild Voices for Kids school programming, and the Columbia River Wetland Stewardship Partners.
Wings has profiled environmental stewardship and research. The festival showcases examples of innovative research and local stewardship projects in presentations, events and in its publications. WOTR also promotes local citizen science opportunities.
Wings demonstrates innovation to all its stakeholders with worthwhile projects that capture the imagination and engage. The WOTR festival celebrates the wildlife and plants of the wetlands and adjacent mountain, forest, and grassland habitats within the upper Columbia Valley, helping build a constituency for their protection. Wings' philosophy is that people will care passionately about the places that they experience. By fostering a sense of place, Wings strives to move people from just awareness to understanding, then to appreciation, and ultimately, to stewardship. Our keynote presenters are chosen for their ability to share how nature has inspired them.
Each year the festival reinvents itself with a new theme based around its keynote presenter. Our keynote presenters have included scientists, artists, musicians, writers, historians, and adventurers. WOTR themes have included: "Art of Nature" (keynoted by Robert Bateman); "Mystery of Migration" (Brian Keeting);"Science Takes Flight" (Dick Cannings); "Follow the Leaders" (Bill Lishman); "Nature's Orchestra" (IanTamblyn); "Fossils and Feathers" (Jean Bernard Caron); "Reflections on Water" (David Schindler); and "Webs and Roots – Talk about Networking!" (Suzanne Simard).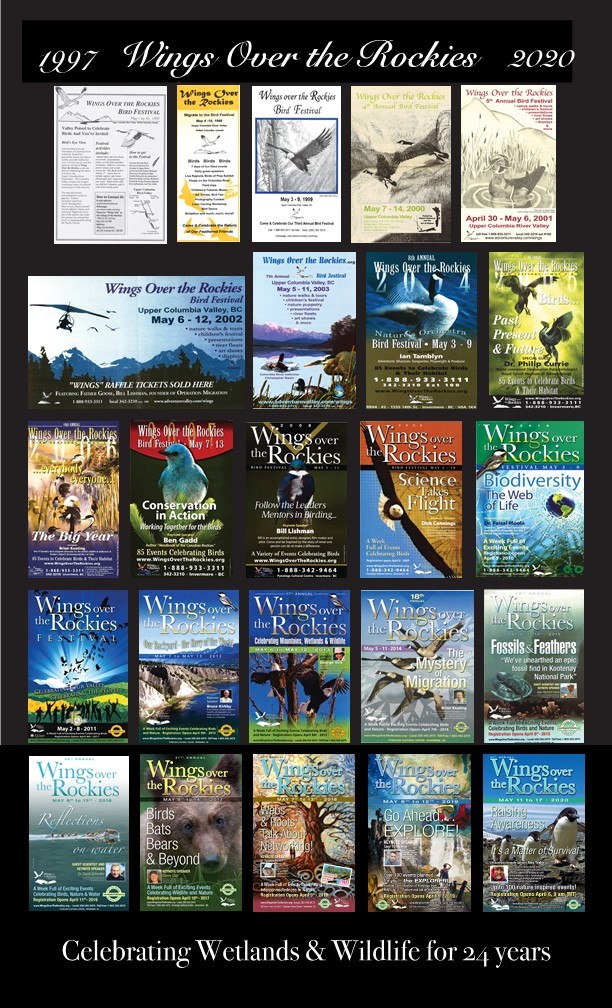 WOTR has diversified its events to appeal to more than just hardcore naturalists. Consequently, Wings is of interest to casual birders, recreationalists, culture and history buffs, schools, and families. A typical festival will include art shows, music performances, children's events, guided walks, river floats, aboriginal culture demonstrations, and visits to sustainable agriculture and environmental projects by local businesses. Wings showcases stewardship projects such as planting for pollinators or building bird and bat houses. To appeal to younger audiences Wings has events such as wetlands birdwatching from paddleboard and energy medicine programs such as Forest Bathing.
WOTR volunteers have created an essential birdwatching tool, the free downloadable Columbia River Bird Checklist, and also respond to bird and wildlife questions from the public.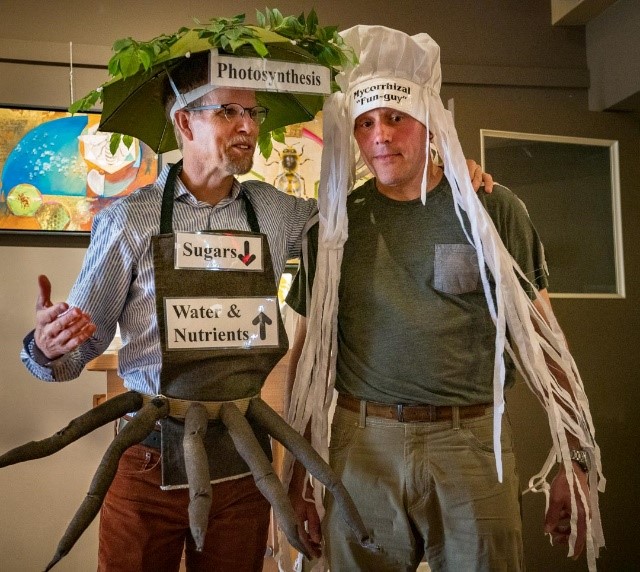 When the WOTR festival began, it required 40 volunteers over a multi-week period to handle participant registration. Since then, the Wings website has evolved to become a self-registration tool for participants. Our first online
registration system adapted hotel booking software and dramatically reduced the need for and frees up volunteers to participate in the festival. WOTR's current online registration system was custom programmed in 2018. It handles the complexity of booking 100 individual events, each with its own pricing and capacity limits, and spread over seven days and 100 linear km. This registration system is robust enough to handle the hundreds of near simultaneous registrations that occur in the first hour after our registration opens. The system enables strategic planning by providing anonymized data on where participants come from and what events they are booking.
WOTR collaborates with other organizations throughout the year, including a multi-year collaboration with the Columbia Valley Art Council which provides office, exhibit, and presentation space for Wings.

Wings Over the Rockies Nature Festival inspired participants to create several other nature festivals: Creston Valley Bird Fest, Birds and Bear (Golden), Golden Eagle Festival (Canmore), Brandt Festival (Parksville and Qualicum Beach) and the Montreal Bird Festival. Wings continues to cross-promote by sharing web-links with other regional nature festivals.

Through our festival presentations, newsletter and social media, Wings promotes citizen science opportunities in projects such as the Lake Windermere Ambassadors and the Columbia River Waterbird Survey.
During the year, Wings engages past participants and sponsors via occasional newsletters and social media postings. These postings advise on appropriate behaviour to protect wildlife and habitat. Readers often ask nature-related questions about species identification or where to see specific birds, and our resident experts provide answers. We frequently receive nature photographs for the festival's use. Columbia Valley newspapers taps into the expertise of board members for timely articles to foster protection and respect for the environment. Valley communities are highly engaged in the festival. Students have erected osprey nesting platforms, building birdhouses, and painting yellow fish on storm drains to remind residents that spilled oil ends up in the watershed. The District of Invermere places volunteer-created wildlife cutouts on light standards in the downtown. All community billboards carry festival information. The Columbia Valley Chamber of Commerce provides additional information. Local businesses include window displays, signage, sponsorship in dollars, and in-kind. Many residents share their expertise as volunteer field trip leaders and presenters. Because of donation of funds and in-kind products, Wings has kept its event prices affordable.
Despite the impact of Covid, the society was able to utilize reserve funds in 2020 to cover the cost of the cancelled festival. Again, due to Covid, the 2021 Festival became virtual creating online "on-demand" presentations and two live events by our expert presenters. 
Wings looks forward to sharing the 25th Festival – May 9 -15, 2022 with you. Plan to join us as we celebrate more of earth's miracles.