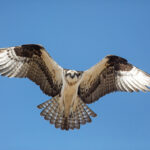 Photo by Don Delaney.
As you will be aware, the 2021 Wings Over the Rockies Nature Festival has been carefully planned to be covid safe and compliant. However, in light of the April 23rd Provincial Health Order that prohibits all non-essential travel between health regions and across provincial borders, the Wings board has made the difficult decision to cancel all outdoor in-person events to adhere, not only to legal requirements but to the spirit of this order.
The decision to cancel nearly 100 activities for the festival was not taken lightly, but to protect the health of our residents, participants, presenters and volunteers. Wings does not want to encourage travel from outside the Interior Health Region. Several of our planned trip-leaders were from outside the Interior Health region but there was also considerable demand from residents of other provinces.
Buyers who have bought tickets for outdoor activities will be given a full refund for those events. Please allow up to 30 days for us to process the refund.
Happily, all Wings online events will continue, offering you the opportunity to stay connected with Wings virtually. Learn more about our live and on-demand presentations, online auction, photography and birdhouse contests at: www.wingsovertherockies.org.
Wings became one of the largest wildlife festivals in Canada, through the ongoing support of our volunteers, affiliates and sponsors. We sincerely thank you for your support even though covid again interfered with our plans. Through your support Wings continues to connect people to the remarkable nature and culture of the Upper Columbia Valley. Plan now to join us in 2022, when Wings celebrates its quarter century!
Wings wishes you good health while we weather the virus. The inspiring landscapes of the upper Columbia Valley provides a festival of sorts every day. Take some time to "recharge" in nature with your friends and family, in a socially and environmentally responsible way. 
We'll keep in touch.
Sincerely, 
Ross MacDonald President,   
Wings Over the Rockies Nature Festival